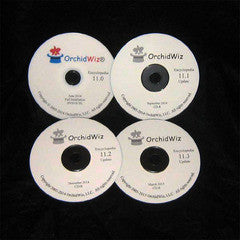 OrchidWiz
Last Update and Maintenance Plan
OrchidWiz will Ship through OrchidWiz X9.1  We have released X9.1.  This is the last Update. It also includes technical support through December, 31, 2025. This update is for anyone on version X8 or higher.  If you buy the plan and don't have the latest update, we immediately ship it to you and it counts as the first of four. Else, we wait to ship you the first update you don't have.
You must have the latest point version of OrchidWiz Encyclopedia before you can buy the Quarterly Plan. If you are on a prior point version, you must first upgrade to the latest point version. For example, if you have X5.3 but X6.0 is out, you need to upgrade to X6.0 first, and then you may buy the quarterly plan (which will include three updates and an upgrade to X9.0 at that point). Generally speaking the deadline to buy the quarterly plan is August 31 of any given year. If you buy the annual plan August 31 of a year, it is due for renewal in June of the following year, when the last of the 4 updates/upgrades is released (September, December, March and June). The quarterly plan is due for renewal when you receive the last of the four quarterly releases, NOT after 365 days.
The media you specify applies only to the one quarterly update (September) which is also an "upgrade" and therefore a full installation (14 GB). X9.1 quarterly update will be either downloaded from the web; or sent via CD-ROM.
Make sure to choose one of the following media:
DVD [default]:  Two DVDs will be sent to you, named DISK1 and DISK2.  Once you are finished installing DISK1, the installation will ask you to insert DISK2.
Download Only (No Shipping Charge):  You need to have high-bandwidth internet for this option, and it may still take several hours to download the software.  OrchidWiz Support will email you your activation key.
USB Flash Drive (USB is shipped with the full installation only. Updates are available via download)
Micro SD 

(MICRO SD is shipped with the full installation only. Updates are available via download)
MINIMUM SYSTEM REQUIREMENTS:  Windows 8 or Windows 10; and 14.0 GB of disk space (on the computers primary hard drive). 
NOTE: All pricing is US dollars except where noted otherwise.
---
Share this Product