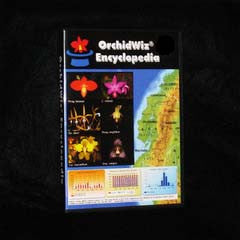 OrchidWiz
Inventory Close Out - Only $150 - OrchidWiz Encyclopedia X9.1
The world's most complete and accurate orchid research software, with over 210,000 photos! Updated with the Royal Horticultural Society's (RHS) 160,000 hybrid registrations; with more than 32,000 species; and with over 129,000 awards from orchid societies worldwide (AOC, AOS, CAOB, CSA, DOG, HOS, NZOS, OCNZ, OSCOV, OSSEA, NSW, QOS, SAOC, SCO, SFOS, TOGA). The price includes a license for a single user, the ability to install the program on two computers. OrchidWiz X9.1 will be the Last Release.

MINIMUM SYSTEM REQUIREMENTS:  Windows 8 or Windows 10; and 14.0 GB of disk space (on the computers primary hard drive). 
Make sure to choose one of the following media:
DVD [default]:  One or two DVDs will be sent to you.  If two DVDs, once you are finished installing DISK1, the installation will ask you to insert DISK2.
Download Only (No Shipping Charge):  You need to have high-bandwidth internet for this option, and it may still take several hours to download the software. OrchidWiz Support will email you your activation key. Be Sure to Save the installation files.

USB Flash Drive
Micro SD
NOTE: All pricing is US dollars except where noted otherwise.
---
Share this Product